HibridTurf EX (for "Excellent"): high-end turf from the E Series.
HibridTurf was first released in 2000 as a pioneering long-pile artificial turf, has continued to evolve over the years. Now, we have developed new HibridTurf EX to meet demands for durability, the first priority for facility managers in selecting artificial turf, with an expected service life of 10 years. This is high-end monofilament turf specially designed for maximum durability.
High-durability specifications, meeting the selection criteria for artificial turf.
Durability is always cited as the top priority in surveys of users replacing long-pile artificial turf. Sumitomo Rubber has introduced a new durability test, and evaluated surface wear that closely resembles that of actual play, verifying dramatic improvement in durability.

Made with fiber that combines optimum stiffness and suppleness.
Use of thicker fiber than before makes the artificial grass stand up even straighter. Meanwhile, a rhomboid structure ensures that it is also highly pliable. Plus, it does not rip easily, and resistance to wear and tear is dramatically improved. Excellent ground condition can be maintained over long periods of time.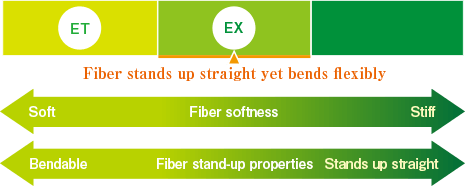 Tested with realistic simulated action: twisting while stepping on turf
The conventional durability evaluation method entails a repetitive motion based on a series of walking actions, and it does not sufficiently simulate the cracking and curling that actually affects artificial turf. To address this, we have developed a new endurance testing machine that reproduces the actions of pressing from above and kicking with a rotation of the foot. With this dynamic evaluation, we have verified durability in situations that more closely resemble the actual ones.

Structure of Hibrid-Turf EX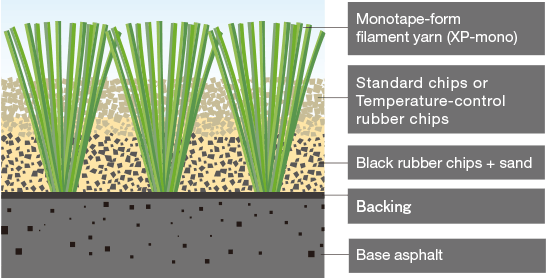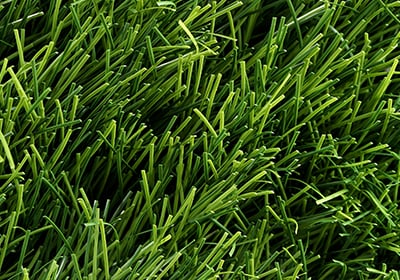 Hibrid-Turf EX standard specifications(Product no.: EX-55/EX-65)
Artificial turf
Pile
Material
Super-durable polyethylene
Shape / width
Rhombic yarn fiber / Straight structure / 1.1mm
Color / Grass length
Two colors (field green / lime green) twisted together / 55mm, 65mm
Grass thickness / turf thickness
400 microns / 14,400dtex
Base fabric / Backing
Compound of plain-woven PP fabric with polyester fibers / PE/SBR latex
Filling material
Sand / Rubber chips
Degree-adjusted special silica sand / fine-grained rubber chips